Everything You Need to Know About SR-22 Insurance
Learn More About How SR22 Savings in Los Angeles Can Help You Save!
All Of Your Questions Answered
SR22 Savings in Los Angeles is ready to answer your questions about your need for an SR-22 insurance policy. If you find yourself in need of high-risk insurance coverage, it's important that you know all the details about adding this policy to your current coverage. Read the information below and contact our agents to get started! You'll be back on the road in no time.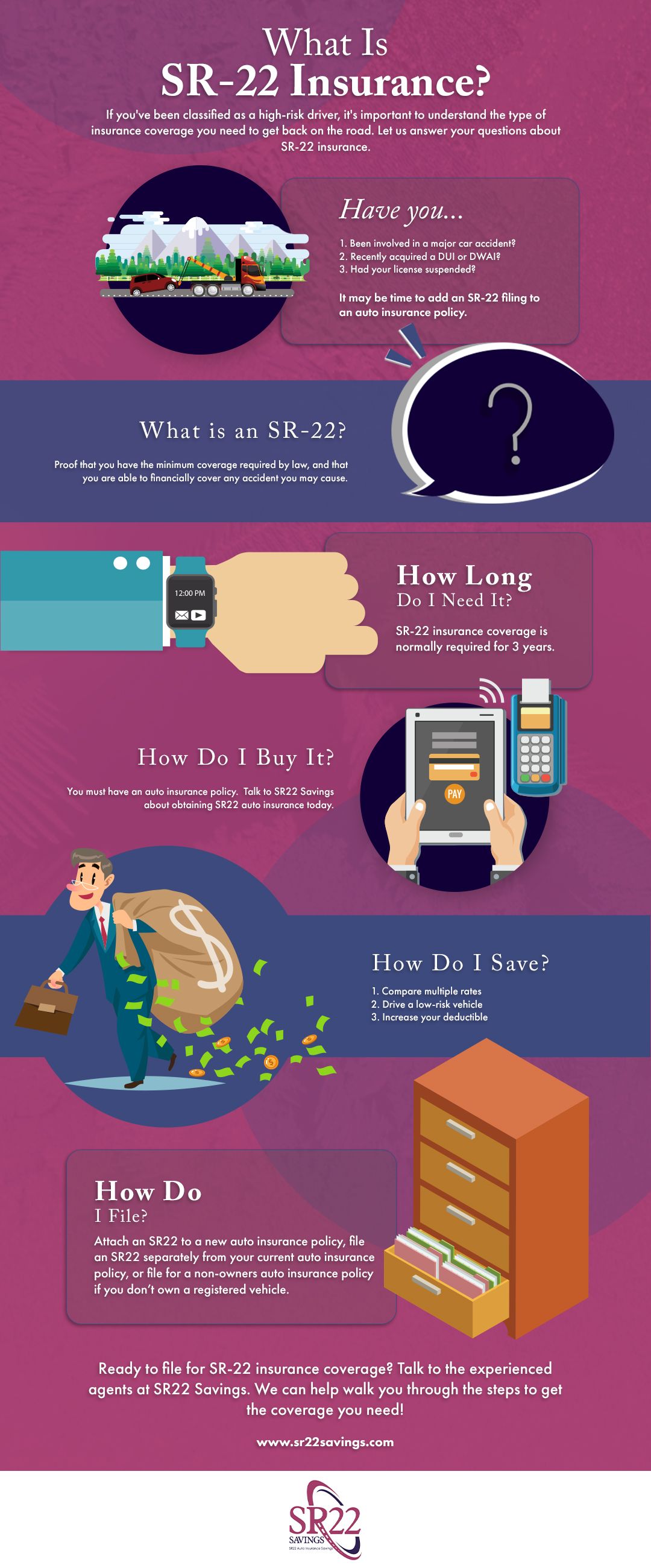 If you've recently been involved in a major car accident or received any other type of traffic violation in Los Angeles, it may be required that you get SR-22 insurance before you can legally get back on the road. SR22 Savings wants to keep you informed and make sure you have the knowledge you need when filing for coverage. Keep reading to have any and all of your SR-22 insurance questions answered.
What Is SR-22 Insurance?
An SR-22 insurance policy is extra coverage that proves to the DMV that you are financially responsible. High-risk drivers are typically the only people that are required to get SR-22 insurance. Situations that result in a high-risk classification include:
Suspended driver's license

DUI, DWAI, or any other moving violation

Lack of current car insurance

Any major traffic violation
How Long Do I Need Coverage?
SR-22 insurance, in most cases, is required for three years. You must be covered during the specific time period noted by the DMV before you will be able to remove the SR-22 coverage. If, for any reason, your policy lapses or is cancelled, your insurance agency is required by law to notify the DMV and your license may be suspended.
How Do I Buy SR-22 Insurance?
Not all insurance agencies will be willing to file SR-22 insurance. In fact, they may just drop you entirely. You must already have insurance coverage in order to file for your SR-22. The only fee for this extra coverage is the filing fee, keeping it affordable. However, if you find yourself in need of SR-22 insurance coverage, it is likely that your current insurance policy rate will dramatically increase.
SR-22 insurance coverage proves to the state that you have the minimum amount of coverage required by law and that you are able to be financially responsible for an accident you cause. Driving without insurance or without required SR-22 coverage could result in even more severe punishment from the court.
How Do I Save?
Compare Multiple Lender Rates
There are plenty of Los Angeles lenders who offer SR-22 insurance policies. The knowledgeable agents at SR22 Savings can help you shop and compare rates from multiple lenders. You're not in this alone, we're here to help.
Switch to a Low-Risk Vehicle
Another good way to save money once it has been determined that you need SR-22 insurance coverage is by switching to a low-risk vehicle. How much you pay for your extra coverage depends on the type of vehicle you drive. If your current vehicle is considered a greater risk, you might consider switching vehicles, at least temporarily.
What you pay out-of-pocket is known as the deductible. If you are trying to lower your SR-22 insurance costs, this is a good thing to focus on. By raising your deductible amount, you can make your monthly premiums more affordable. Make sure that if you raise your deductible, it's still set at a reasonable price, so as to avoid financial hardship should you find yourself in an accident on the road.
How Do I File?
SR22 Savings in Los Angeles can help you file for SR-22 insurance coverage when you're ready. There are multiple options available for filing your policy:
Attach your SR-22 to a new insurance policy

File your SR-22 separately from your current car insurance policy

Have an out-of-state SR-22 policy issued

File for a non-owners SR-22 policy if you do not have a registered vehicle but want to get your license back
What's Next?
When you're ready to start the process of filing for your new SR-22 insurance coverage, contact the agents at SR22 Savings in Los Angeles. We have the knowledge and experience to help you shop for the most affordable coverage, and you can even pay your monthly premiums directly through us.
Don't let insurance coverage stress you out. It is possible to get back behind the wheel with the right coverage. Let us get you there. Contact SR22 Savings today!